Half Moon Cay is probably the most beautiful place on Earth. It's a private island owned by Holland America Cruise Line, which is a subsidiary of Carnival Corp.  The sand is as soft as baby powder, the ocean was as warm as could be and the water was crystal clear. It was heaven.
Our first time there, we rented cabana #12 through Carnival (this is a Carnival excursion) and since we had that and FTTF we were the first off the ship and the first on the island.
It was heaven. With the cabana we got fruit, chips, veggies, dip, guacamole, salsa, water, sodas, snorkel equipment, floats, a private shower, private beach area (for cabana people), AC, fridge, and a place to keep our stuff. Oh and the loungers.
Seriously, this was heaven and my favorite place ever.
This is our favorite island ever, and it's not even in the Caribbean! I am not a fan of cruise ports in the Bahamas as none of them are very nice, but honestly Half Moon Cay is amazing.
We had to be in the theater early that morning for our priority tendering to the island. At Half Moon Cay, you have to take a tender from the ship to the shore. Not a big deal.
One thing Carnival failed miserably at this time, they said once we got to the island we had to go to the information hut to sign some paper. First of all, they should have passengers do this on the ship, NOT waste valuable time on the island, standing in a long line to do this.
After we finally did what we were told, I realized most people weren't doing this. Next time, I won't either. It was a waste of time.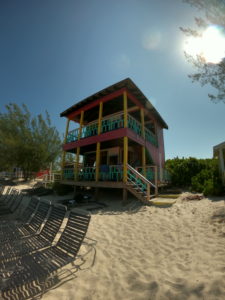 We got on the island shuttle, so it could take us to our villa we rented. We rented villa "E" which is between cabanas 12 & 13, far down from the cruise crowd at the shipwreck bar.
Now in years past, there was a rope there where if you didn't have a villa or cabana, you couldn't go past. This allowed those in a villa/cabana to basically have a private beach. They did away with this which is VERY disappointing. By the end of the day, lots of cruise passengers ventured down the beach and it was getting crowded. I was very disappointed in this. We paid $500 for the villa for 8 hours, I'd like a little seclusion.
We rented the villa with another family we enjoy cruising with and are friends with. I almost cancelled this villa for certain reasons but in the end, I'm glad I kept it.
The villa downstairs has a hot tub, a bathroom and a shower. It also has an outdoor shower. It also has 2 chaise lounge chairs , air conditioner, and fans. There's also a bar you can sit at to look out.
Upstairs has a huge table, refrigerator, kitchenette area, and a bar you can sit at and look out. It also has 2 more chaise loungers. The villa also includes 6 floats, snorkel gear for everyone, a tray of fruit, a tray of vegetables, a huge bag of chips, salsa, dip, and also priority tendering to shore. It was very well worth the $500.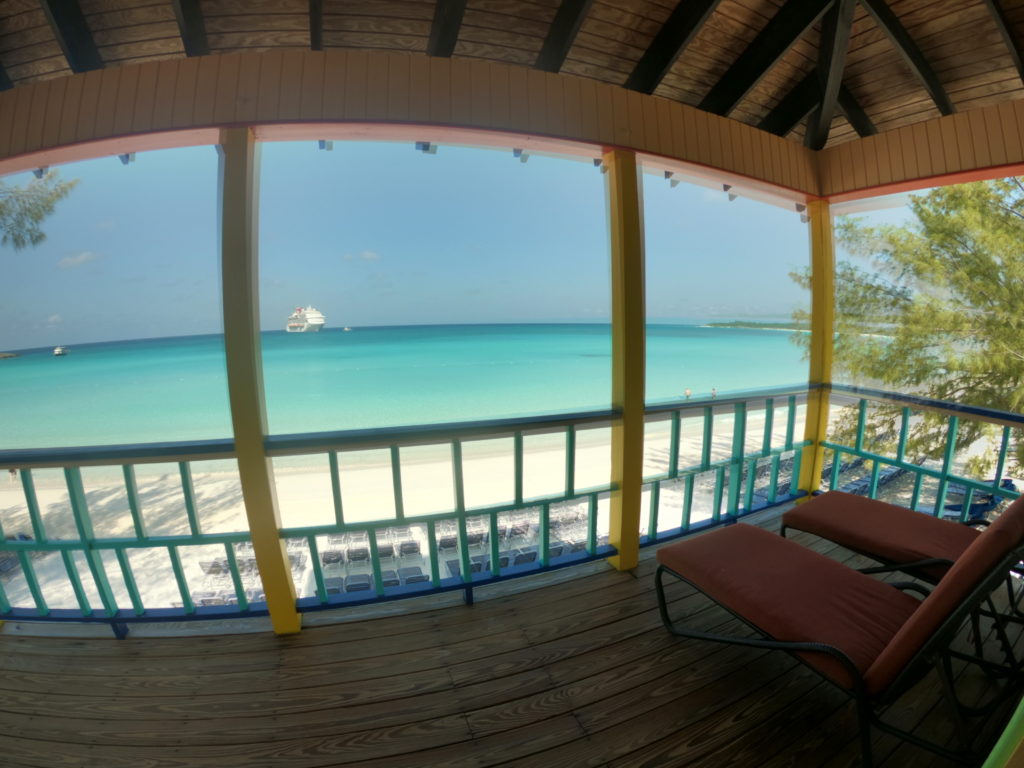 We spent the entire day in the ocean, enjoying the crystal clear water, baby powder soft sand, warm temperatures and good times.
Around lunch time us guys walked down to the food. I brought back food for my family and we ate upstairs while watching the ocean. Then back to the water we went.
Kolbrin spent the entire day almost in the hot tub. I have no clue why. Everyone else was in the water, on the floats. It was such a relaxing day. We've been to Half Moon Cay before so we knew what to expect. It's paradise!