In Grand Turk, most cruisers flock to Margaritaville which you can go to in any beach city in the USA. We don't want to do that. We rented a golf cart through Karib (now closed) which was $90 for the day.
With the golf cart, you can ride anywhere on the island. Grand Turk is a small island so you can explore the whole island in about 2 hours or less. Just remember to drive on the left hand side of the road. Watch out for the wild donkey and horses.
We rode up to the light house which was fun. We paid $2 to go into the complex and sit down and grab a soda. After we left the light house, we rode around Cockburn Town which is pronounced Coebern Town. We made a stop at Her Majesty's Prison and then to Governor's Beach.
After we left Governor's Beach, we went to the city salina, then went and  hung out at Jack's Shack a little bit before going back to the ship. This is one of our favorite places not named Half Moon Cay. When it was getting close to time to get back on the ship, we went and returned the golf cart and got back on the ship. This was a great day.
Grand Turk is probably one of my favorite places because it's so laid back. We do the same thing every time we come here. We rented a golf cart through Karib for $90. I walked out of the cruise terminal, picked my golf cart and off we went.
I stopped by Her Majesty's Prison first before heading over to the old library. I knew it had burnt down but I wanted to see it. It was a total loss, very sad.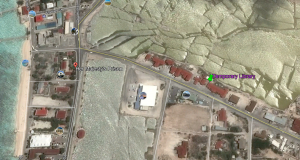 CRUISERS GOING TO GRAND TURK: PLEASE DO THESE PEOPLE A FAVOR AND TAKE SOME BOOKS WITH YOU. YOU CAN DROP THEM OFF AT THE NEW LIBRARY WHICH IS LOCATED AT THE GOVERNMENT COMPLEX TO THE RIGHT ONCE YOU GET OUT OF THE TERMINAL AREA. YOU CAN ALSO DROP OFF BOOKS AT BOOTH #8 AT THE CRUISE TERMINAL WHICH IS JOANNE BUDDLE OF OCEAN VIBES.
We took our books directly to the new library. They had a single table with a few books on it, and that was it. Grand Turk is a very small island and very poor. They do not have a fire department and none is in the budget at least for 2017. If anything catches fire, it is a loss. Please, help these people out if you can. It was sad to see the lack of books they had.
From the library we headed on up through Cockburn Town (pronounced "Coeburn") past John's and the other shops. From there we headed up to the lighthouse. It's somewhere we like to go because it's at the other end of the island. It's just a nice spot. From there we headed back to the other end of the island. We stopped at Governor's Beach so the boys could see the shipwreck again. My youngest found a crab which was fun for him. From there we went down to Jack's Shack which is where we spent the rest of our day.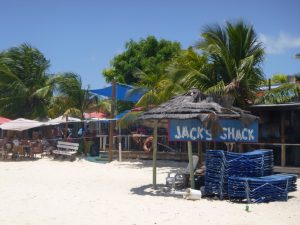 We decided to eat at Jack's before we spent the rest of the day playing. It was good food.
One thing to remember when you order from ANY restaurant in the Caribbean, they are on island time. It's not fast paced like in the USA. We got our food and rented 2 umbrellas to use at the beach. It was $90 for everything, again not bad. We then plopped our booty's in our lounge chairs under the umbrellas and watched the amazing views. I spent the majority of the day sitting in the ocean. It was just such a perfect setting. Everyone was in the ocean just chatting with their beer, like at any land based club. My boys love Topher, the Caribbean's most famous dog. If you ever go here, please take Topher a ball or Frisbee or something. This dog literally chases sand. He does love swimming and digging in the sand though.
2021 Update: Sadly, in late 2019 Topher passed away. Jack and Janet do have a new Goldendoodle named Calypso now.
After a long day, we ended up taking the golf cart back and going back to the ship. It was a great day.
Do yourself a favor, if you ever go to Grand Turk, get away from the cruise terminal. So many people hang out at the pool at Margaritaville and around the terminal beaches. WHY WHY WHY. You can do this at ANY beach city in the USA. It's a chain restaurant people. Go out and explore the island you paid money to see. This is a very poor, small island. The people are so friendly here and welcoming though. There has never at any point that I felt unsafe here in any of my times ever going here. Grand Turk is awesome and their people are as well. Show them some love. The ONLY thing you have to get use to is driving on the left hand side of the road. Remember, this is a British territory.
We arrived in Grand Turk on time, and we sat on the balcony and watched us pull into port next to the Carnival Conquest.
I had a friend sailing on the Conquest so I took some pictures of her ship for her. I never saw her in port though.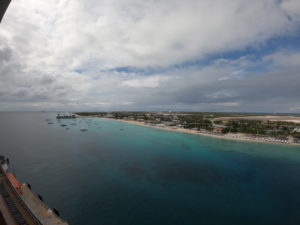 We have been to Grand Turk a septillion times and usually rent a golf cart through Karib.
They went out of business late 2018 so this time we rented a golf cart through Omar Morris, from Grand Turk Adventures. It was $70 for the day which is $20 less than Karib charged. The carts weren't as nice though.
We walked through the dufry shop, through the port area, out the parking lot and into the island, to find Omar and get our cart. We knew exactly where to go but I guess it could be confusing to a new cruiser.
I didn't meet Omar but he had 2 guys working for him. They spoke good English and were very nice. We got our cart, which only had a quarter tank of gas in it. Thankfully I checked before we left. Off we went!
The first stop we made was at a gas station where I put $20 worth of gas in the tank, which just about filled it up.
After that, we went up to Cockburn Town to show some friends of ours who had their own cart Her Majesty's Prison. Apparently it's closed down now and you cannot tour it. I was bummed by that.
From there, we rode up to the light house, which after being there 938,724,928,374 times, I STILL go up the wrong side of the large Salinas initially, and have to turn around.
We finally made it to the light house though where we saw 2 other friends and talked to briefly. By that point, we were hungry so we decided to go get some food.
We went to Jack's Shack which use to be a really fun and active place. Now don't get me wrong, John, Janet, Topher and Calypso are wonderful and they have good food.
However with the cruise groups and everyone telling people to go there, it's just become way too busy with cruise passengers to really enjoy it. The service is pretty much obsolete and it's very crowded. Next time we'll go elsewhere. We never even got waited on, so we went back to the ship for some food and ended up staying there.
I think the next time we're in Grand Turk, we'll just enjoy the ship while all of the cruise passengers are off. We've met every donkey, every horse, been down every road, seen every house, numerous times.
With Jack's Shack being so crowded now and lack of service, it's just not for us anymore. The new cruisers will still enjoy it though.